ICLINIX ADVANCED EYE CARE
SUPERSPECIALITY EYE HOSPITAL BY AIIMS ALUMNI
Your Vision! Our Mission!!
We provide comprehensive eye care treatments ranging from routine eye tests to treatment of the most complex vision and eye-related problems like cataract, Retinal detachment ,diabetic retinopathy, age-related macular degeneration, Glaucoma squint, etc
Read More
 ICLINIX EMPANELMENT CASHLESS MEDICLAIM SERVICES
Super Specialty Retina Services
Many of the normal daily activities we take for granted – working, driving a car, reading – depend on the health of our Eyes. Eye disease which goes undetected can lead to unnecessary impairment of sight. We at our centre feel your eyesight is irreplaceable. Many of the normal daily activities we take for granted – working, driving a car – depend on the health of our Eyes.
Complete clinical evaluation of the eye.
A visual acuity testing, non-contact tonometry is done for every patient.
After a split lamp examination, refraction is done wherever required.
All patients entering the clinic for the first time undergo a detailed fundusexamination with indirect ophthalmoscope, to rule out any retinal disease.
Eye muscle coordination especially for children is tested.
The range of clinical and scientific expertise of our ophthalmologists enables us to deliver high-quality care for the full range of eye conditions, including:
Age-related degeneration
Cataracts
Comprehensive eye care
Corneal surgery/external disease
Cosmetic eye surgery
Detached retina
Diabetic retinopathy
Eye cancer
Glaucoma
Molecular immunology
Neuro-ophthalmology
Ocular pathology
Pediatric ophthalmology
Refractive (LASIK) surgery
Retinitis pigmentosa
Uveitis
Eyes consultation
$69.99
Ophthalmologists consultation
Complete eye examination
Modern equipment
Laser eye surgery
$499.99
Ophthalmologists consultation
Modern equipment
Postoperative examination
Cataract treatment
$529.99
Ophthalmologists consultation
Cataract surgery
We use only best IOL
Why Choose Us?
We guarantee the highest professional standards and use the proven, pioneering andgame-changing ReLEx smile technique performed with ZEISS VisuMax as well as the mostadvanced lens surgery.
High Standard of Ophthalmology
Committed Ophthalmology Team
Modern Ophthalmology Equipment
Our Statement
At our family owned eye clinic we strive to provide our patients with the ultimate eye care experience every time they visit. Check out our Mission and Vision Statement below!
Mission
Our mission is to provide clinical excellence and unmatched professional service to give our patients the best opportunity for a lifetime of healthy eyes and excellent vision.
Vision
Give our patients the best possible vision performance and subsequent quality of life by providing the best vision and eye healthcare possible.
Our Principles
We have long lived by guiding principles that define and differentiate us. We foster an environment of trust and mutual respect, free expression and inquiry, and personal resilience and achievement.
We Aspire to Excellence
We Embrace Diversity and Community
We Promote Curiosity
Our Community Achieves Through Collaboration
We are Passionately Engaged
Our Philosophy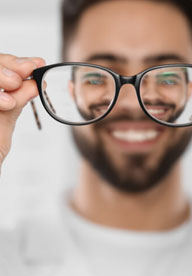 Our philosophy is to provide exceptional eye care, which requires individual attention and genuine concern. Our office provides a unique experience allowing us to treat you, the patient, and your vision concerns. We facilitate building a strong patient-doctor relationship through direct one-on-one communication.
We believe in the power of sight
We believe in each individual's unique vision
We believe in state-of-the-art medical eye care
Our Equipment
Topcon 3D OCT-1 Maestro
Fully automated operation: easy operation, workflow improvement
Multi Modality: more complete diagnosis, combined OCT/Fundus camera, optional OCTA
Follow up scans: repeat localised follow up
Extensive set of reports, guidance for diagnosis
Space saving design: more retail space and/or less space needed in examination room
ZEISS VISUCAM Fundus Cameras 524
Brilliance in every detail
ZEISS VISUCAM fundus cameras, with a 24-megapixel sensor and revolutionary ZEISS optics, produce brilliant, ultra-high resolution, detail-rich images to effectively aid in diagnosing and monitoring a broad range of eye diseases – from glaucoma and diabetic retinopathy to macular degeneration (AMD)..
Great Diagnostic Inside
Versatility
Enhanced practice performance
Aeon Green Laser Multi Spot Laser
Internal clear view safety filters allow larger field viewing, undistorted crystal clear view of the retina and eliminates color distortion of the treatment site while optimizing white light transmission or brightness of the physician s view.
True Parfocal Beam Delivery for exceptional energy distribution.
Easy selection of delivery system
Uninterrupted procedure for increased visual focus
Allows hands-free operation.
Control panel and full touch graphical colour displayap
Perfect Team
Our Specialists
Dr. Varun Gogia
| | |
| --- | --- |
| Degree: | MBBS(AIIMS), MD(AIIMS) |
| Areas of Expertise: | Vitreoretina |
| | Uvea |
| | Cataract Specialist |
| | |
| Working Time: | |
| | |
| Contacts: | |
Dr. Saurabhi Khurana
| | |
| --- | --- |
| Degree: | MBBS, MD (AIIMS) |
| Areas of Expertise: | Oculoplasty |
| | Ocular Aesthetics Specialist |
| | |
| | |
| Working Time: | |
| | |
| Contacts: | |
Dr. Digvijay Singh
| | |
| --- | --- |
| Degree: | MBBS(AIIMS), MD(AIIMS) |
| Areas of Expertise: | Paediatric Ophthalmology |
| | Neuroophthalmology |
| | Squint Specialist |
| | |
| Working Time: | |
| | |
| Contacts: | |
Clinic Testimonials
I would like to give you a special 'Thank You' to all of you for the careyou've given. You were special to a part of our lives for the year we knew you all. You werevery caring. Nurses like you are never forgotten. I just can't thank you enough.
– Joseph Dunbar, Carpenter
Today is my last day of infusion. But I know I will be back …not as apatient but a visitor. I have only positive things to say about the nurses at MedEra here ininfusion and also on the 4th Floor.
– Steven Roa, Businesswoman
Am very impressed with you all as well as being highly proficient isabsolutely adorable. I feel so relaxed in her capable hands and hope to be her patient for avery long time! You are a fantastic team!!!
– Wilmer Stevenson, Creative manager